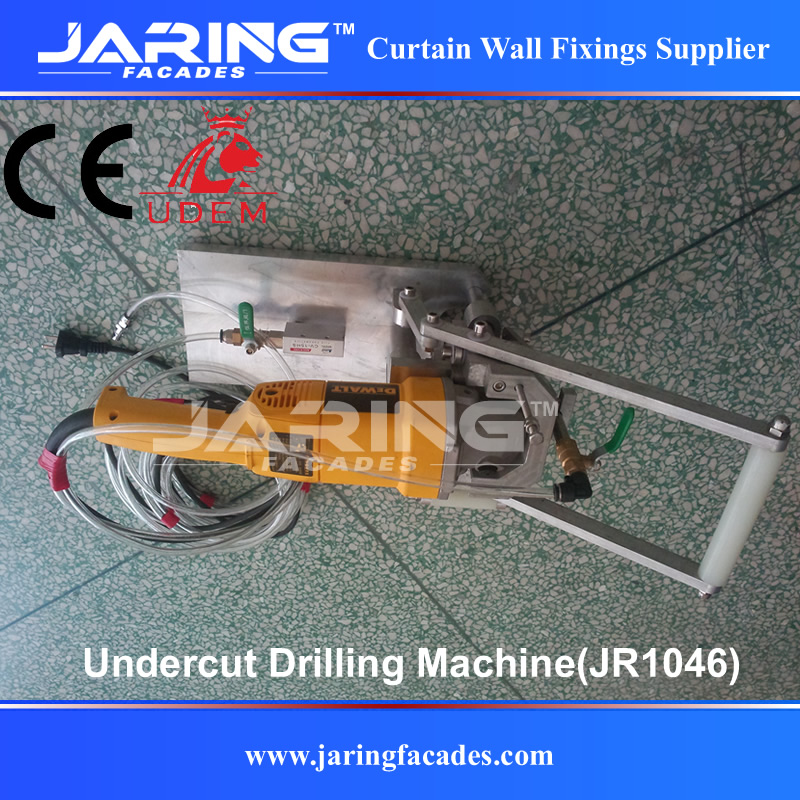 Item: Undercut Anchor Drilling Machine (JR1046)
Trademark : JARING
Model No.: JR1046
Country of Origin : Jiangsu,China
Packing: in wood cartons
Delivery Time: Within 3days.
Payment Term: 100% payment in advance
Shipment: By DHL / FEDEX / TNT
Usage: Used for Drilling the special Undercut Hole for undercut anchors(KUA/PUA) in the Natural Stone | Artificial Panel | Ceramic | Porcelain Tile | Fibre Cement
Technical Data of Undercut Anchor Drilling Machine:
| | |
| --- | --- |
| Voltage: | AC 220V |
| Motor: | Dewalt |
| Rotate Speed: | 10000r/min |
| Power: | 1400W |
| Water Pressure: | 3kg/cm² |
| Air Pressure: | ≥0.8MPa |
| Drilling Depth: | 5-25mm |
| Diameter of Hole: | 7.2, 9.0, 11.0, 13.0 |
| Packing Size: | 550 x 250 x 350 mm |
| Weight: | 14kg |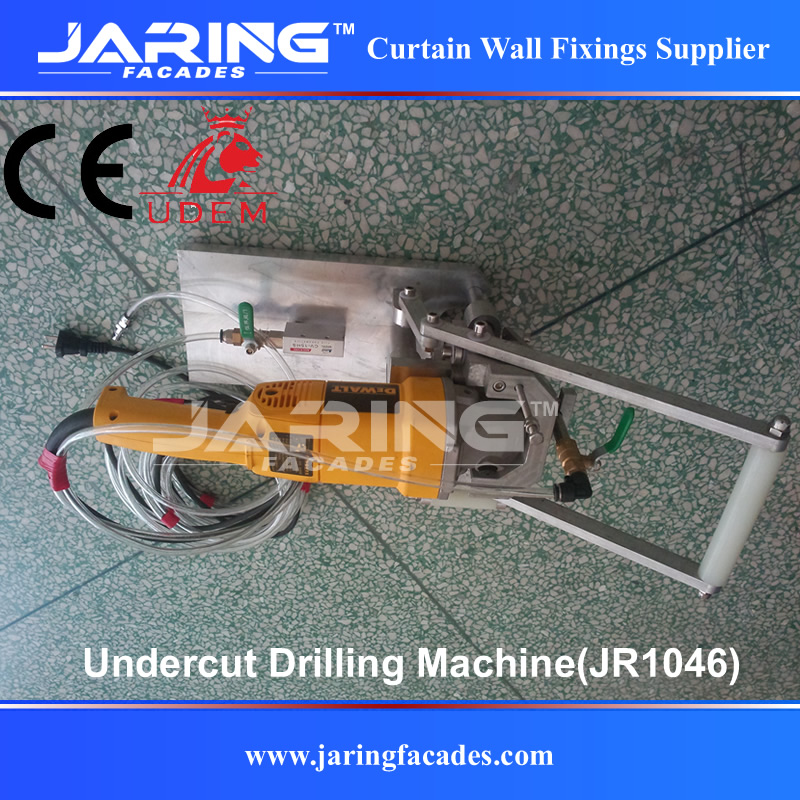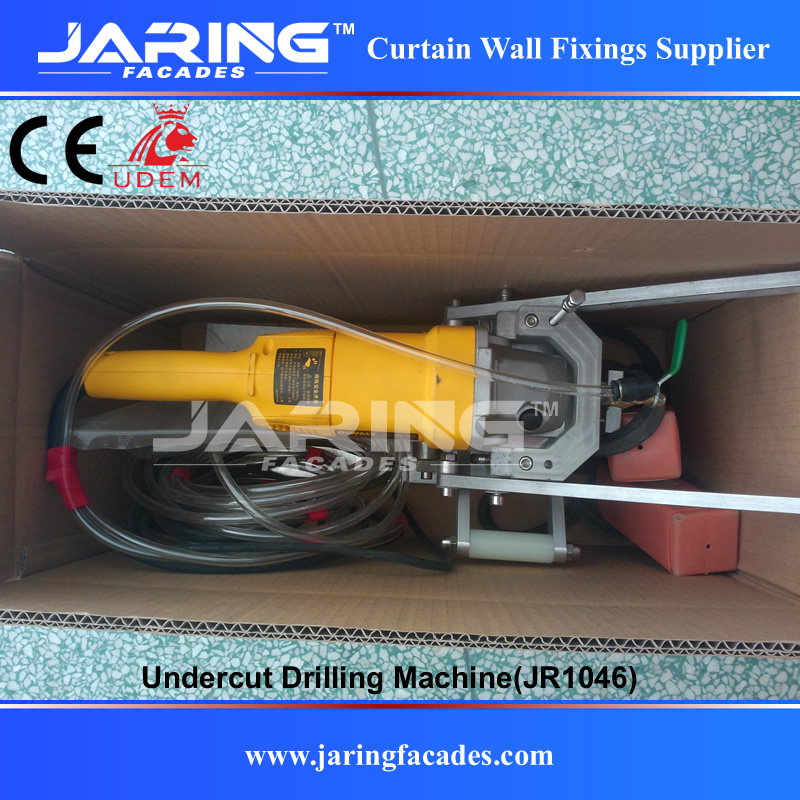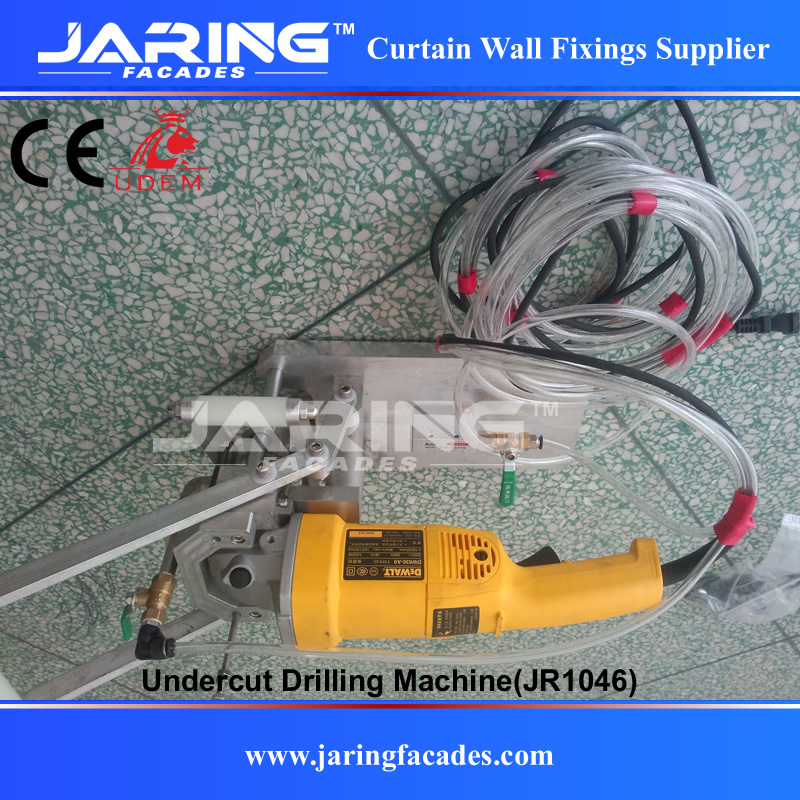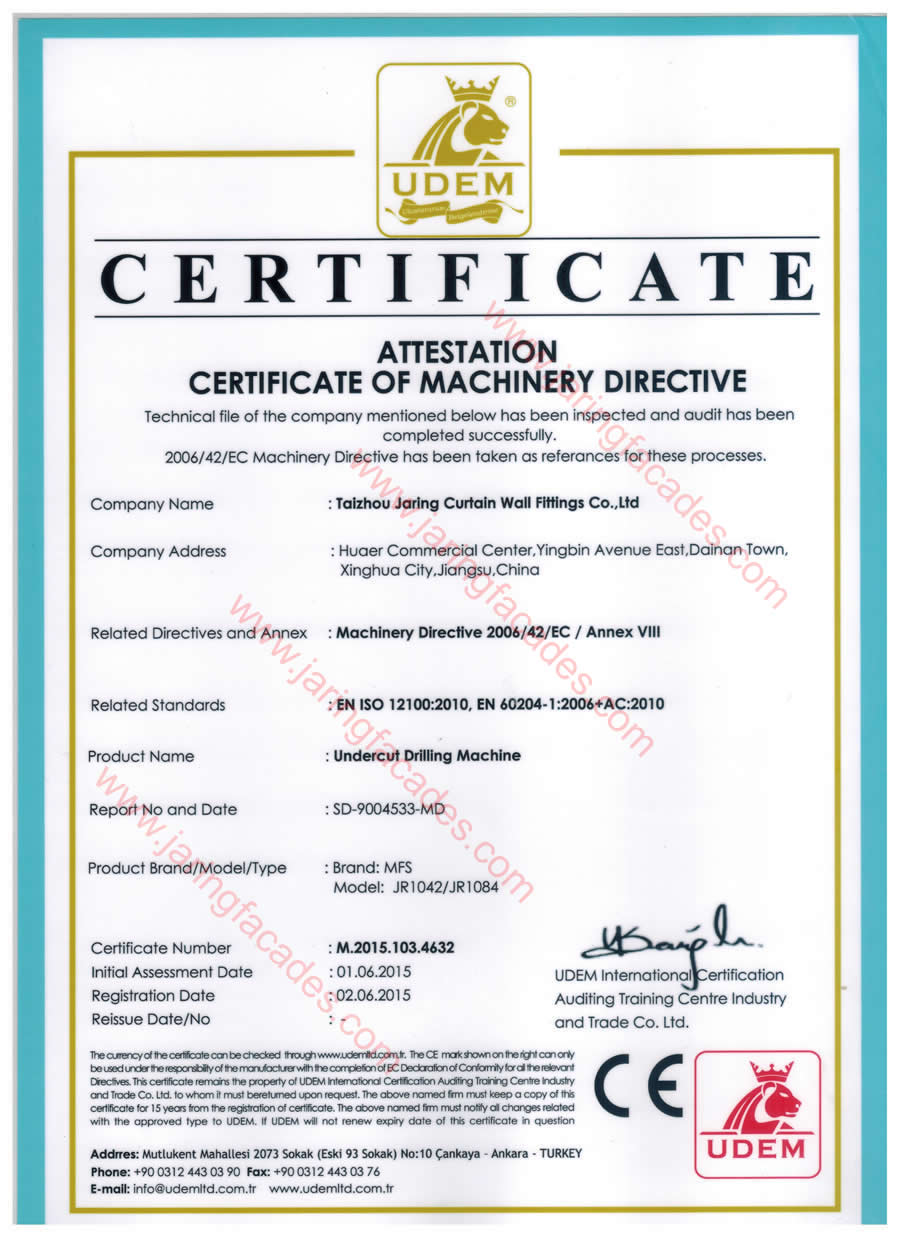 FAQ
1.Do you have CE certificate of this Undercut Portable Drilling Machine ?
Yes, our machine has past the CE test (2006/42/EC Machinery Directive) from Turkey Agency "UDEM", the CE Certificate Number is M.2015.103.4632. You can check it on www.udemltd.com.tr
2.What's the volts of the Undercut Drilling Machine ?
Our machine is 220V,if you are fromUSA,Canada,Japan, you should buy a converter for enough power to start well our machine.
3.What other items I have to buy in our local market :
You should buy the Air Compressor & Water Pump in your local market,as you know, they can't delivery by air.
4.What's the warranty of the machine?
The Portable Drilling Machine is guaranteed for 6months since selling out. Of course,if you have any problems in future or need to change some accessories,we can provide you free for changing.Meanwhile we have sent you the most accessories together with the machine,you can change it yourself when have problems.
5.Do you have any video to show us how to operating the machine.
Yes,we can send you the video of operating by email.
6.Do you have User Operating Instructions of the drilling machine?
Yes,we put it together in every package, you also can ask us for the e-catalog by email.
7.What's the countries you have exported?
We have exported toTurkey,England,Latvia, Dubai,Iran,India,Kuwait,Russia,Netherlands, American,Canada,South Korea,Portugal,Spain,Bahrain,Qatar,Lithuania,Uzbekistan.
8. Do you have stock of the machine,if I need it very urgently,can you send me immediately.
Yes,we have large stock of Undercut Anchor Drilling Machine,Undercut Drill Bits,Undercut Anchors,so if you need,we can delivery to you by DHL immediately.
You can check our other relative products below quickly.
Jaring Undercut Anchor System

Undercut Anchor

Undercut Bolt

Aluminum Brackets

Portable Undercut Machine

Undercut Anchor

Undercut Bolt

Aluminum Pendants

Portable Undercut Machine




Undercut Bolt

Aluminum Clamps

Undercut Table Machine

Undercut Bolt

Aluminum Angle

Undercut Table Machine